The TaiChiEasy™ Approach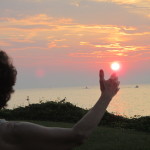 Tai Chi Easy™ , created by Roger Jahnke O.M.D. is a carefully developed method and approach to Tai Chi and Qi (Chi) cultivation that makes it easy, beneficial and fun from the very beginning.The student does not have to devote years to learning the traditional 108 movement form or even the shortened (24, 36, movement) form to enjoy the calming emotional and health benefits of Tai Chi .
The 4 components of TaiChiEasy™
This simple form of mind-body self-care requires no equipment or special clothing and focuses on:
Mindful Movements – gentle exercises that move, relax and stretch the body and increase balance and coordination.
Breathing practices – triggers the de-stressing effects of the Relaxation Response™, increases circulation and energy, and enhances the body's natural healing process.
Self-applied massage – of hands, feet, neck, ears and scalp stimulates energy and circulation flow throughout the whole body.
Meditation – relaxes the body, centers the mind, and calms the emotions.
Best of all, anyone can learn these methods